Increase your chances of resell in the sneaker game! We will help you to buy the most limited sneakers of the moment at retail price.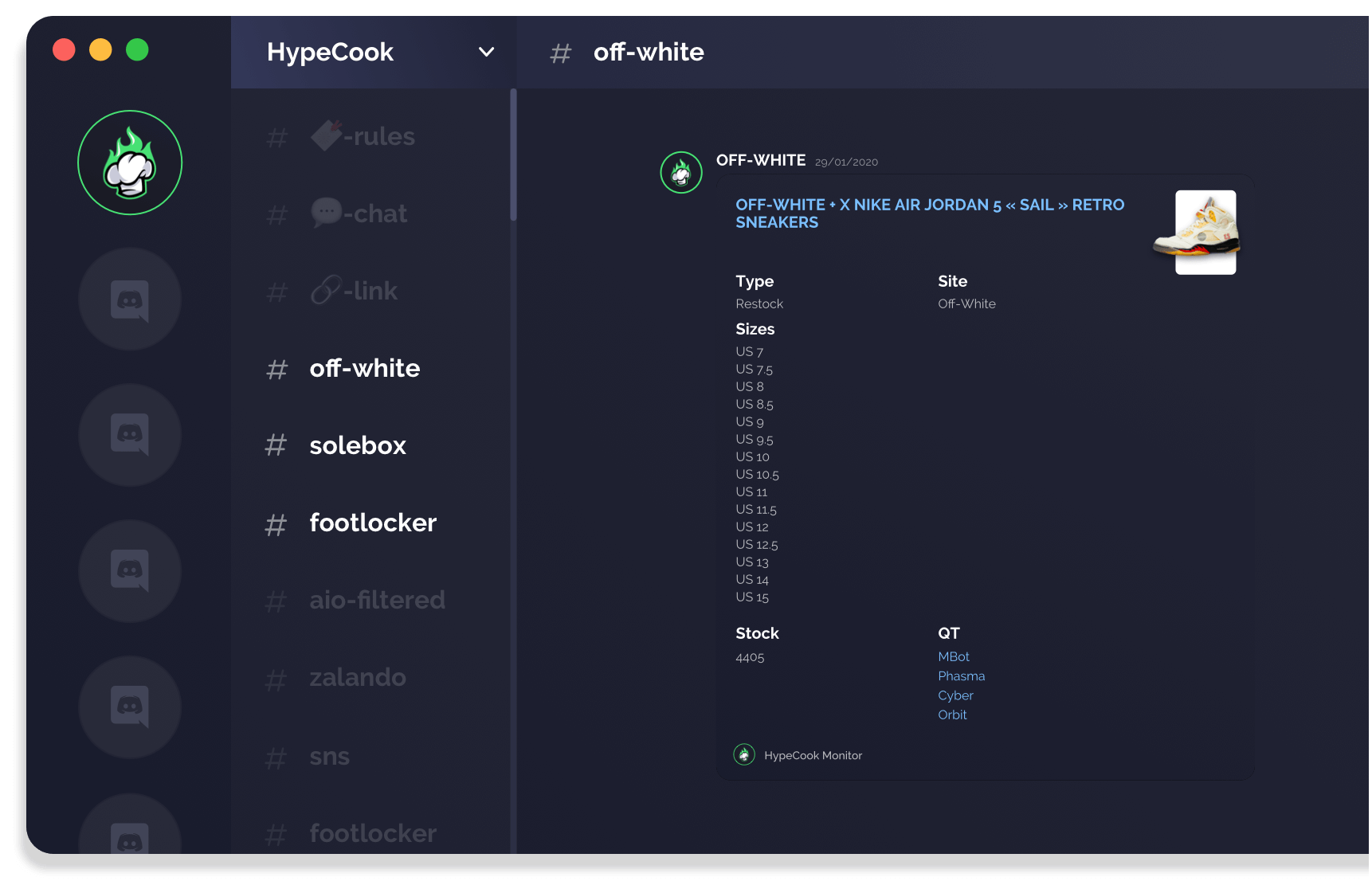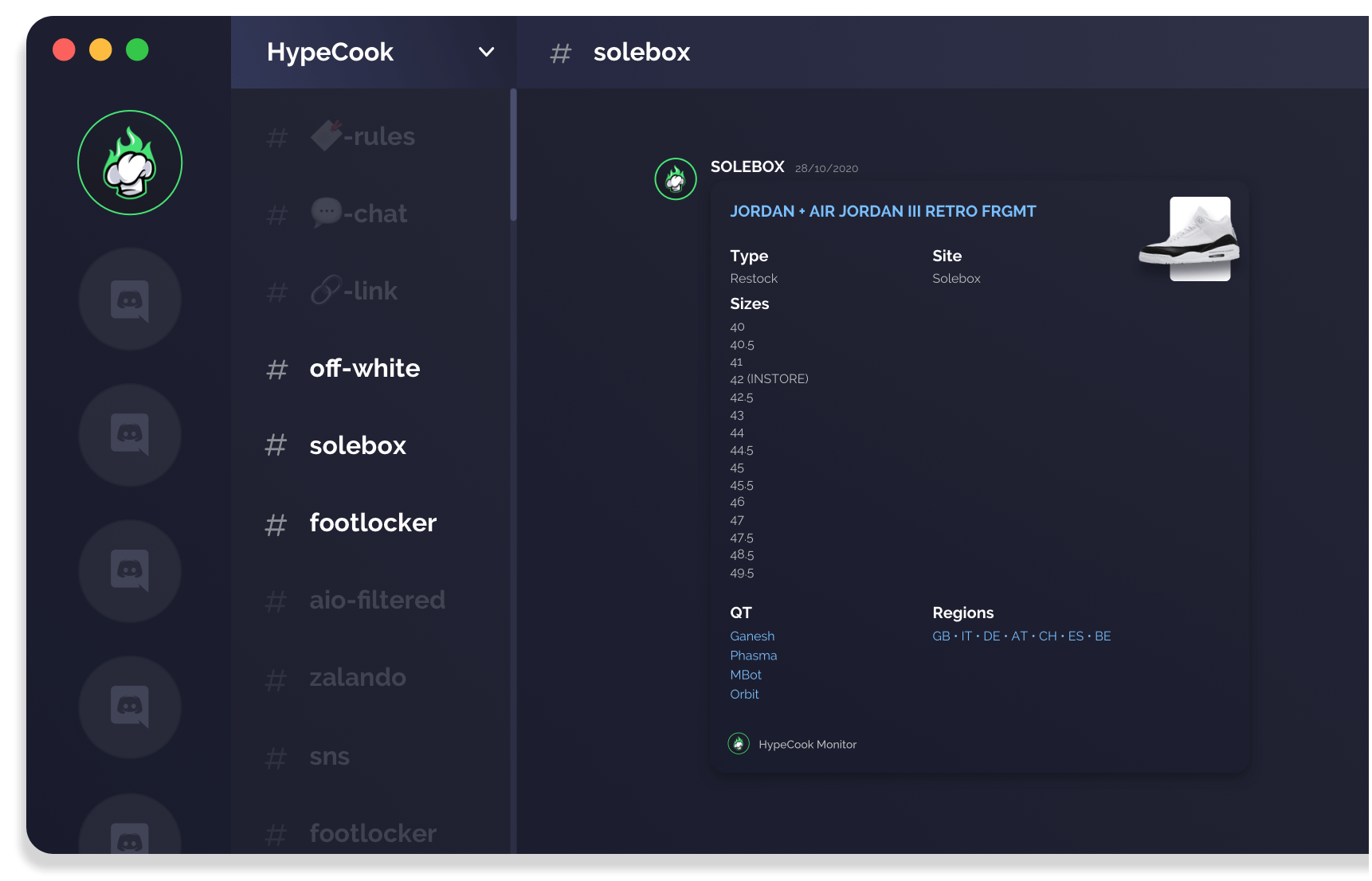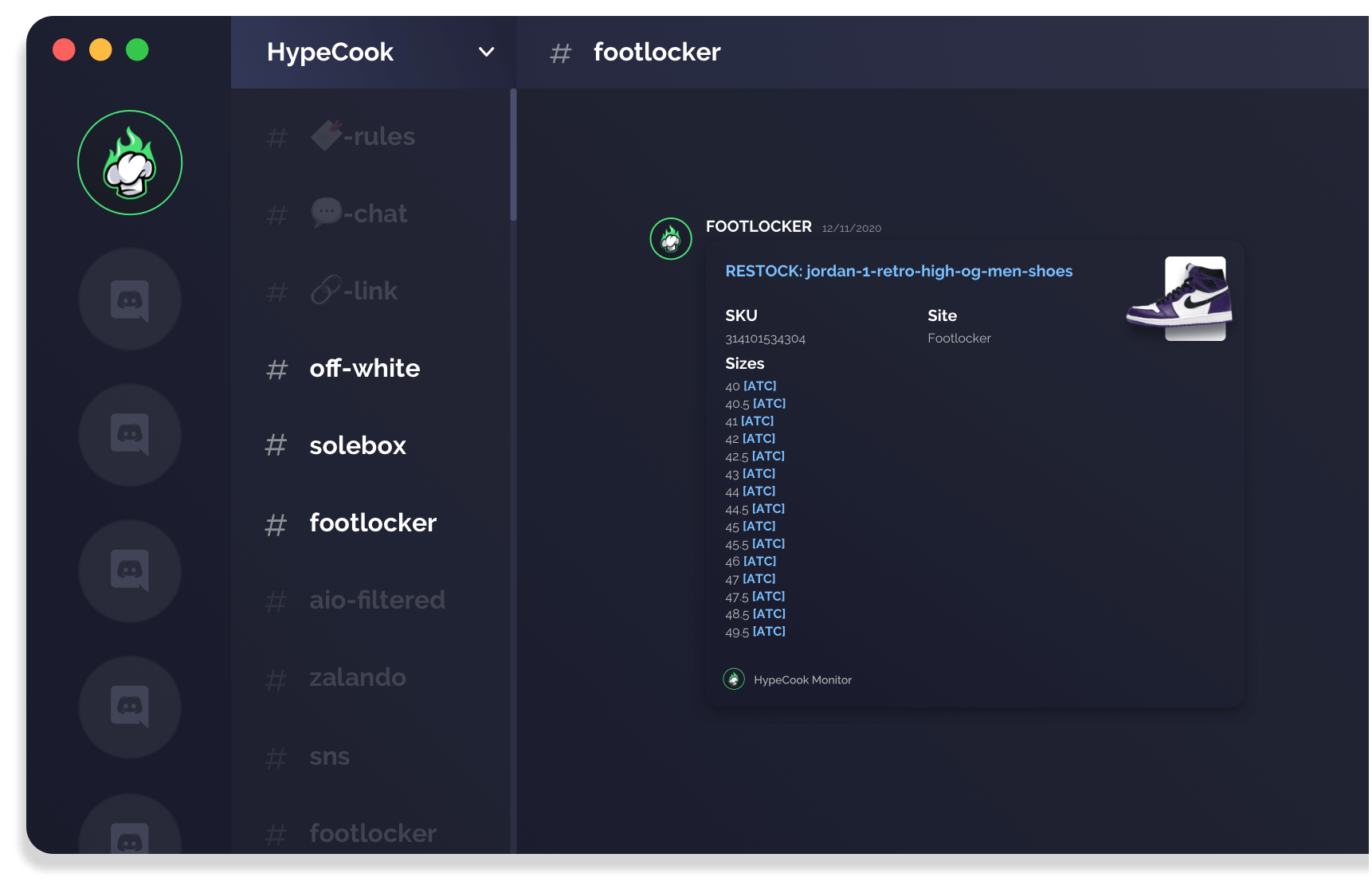 Discover
HypeCook
Do not miss any

Off-White

Solebox

Footlocker
and many other restocks
HypeCook is a limited access cookgroup that will help you to generate the most profit in the sneaker game. We're currently sold out. To be the first to know when we'll be available again, turn on notifications and follow us on both Instagram and Twitter.

Thanks to our extremely fast monitors, guides, bots, early links and release information you will receive all the support you need to buy the largest number of sneakers achieving a high profit.
Monitor Supported
We monitor more than 250+ sites, both EU and American.
and many more…
Discover some of our
features
Fast Monitors

Never miss a restock again! We make sure that our extremely fast monitors for over 250 EU and US sites are constantly improved and updated with new features to ensure an effective quality service. You'll get access to our instant notifications as soon as a product is back in stock thanks to fast 24/7 monitoring.

Raffles

Keep up to date with all of the latest sneaker raffles around the globe. Find which raffles you qualify for, track entries and cop hyped sneakers for retail. We provide many different raffles channels: Worldwide, Europe, America, Asia and raffles by sneakers model.

Guides

We provide all the guides you need to be prepared for every release. Discover when and how stores release products, checkout methods, reship, drop types, proxies, bots, resell platforms and begins with an introductory tutorial that will explain how to use the Discord server in each of its sections.

Releases Informations

Future release info includes all the upcoming Jordans, Dunks, Yeezys and many more. This will also include basic sneaker information as price, pids, stock, resell predictions, raffle list, release guides and the sitelist. Will be covering all drops from lowkey to hyped releases.

Community & 7/7 Support

Join the exclusive streetwear community to share your passion and compare yourself. The HypeCook staff will be at your disposal making sure that you are prepared for every drop with 24/7 dedicated assistance through our support ticket system.

Bot Setup

Setups will be provided for both EU and US sites, for those looking to get started running their own bots. List of supported bots for setups will be updated consistently. We will advise you on what bots to purchase as well as advice with bringing your success up with your current setup.

Monthly calendar

We'll keep you updated for all drops with a monthly calendar so you won't miss a single release. With the utmost professionalism you will always be updated on exclusive drops, preview information, links and a support team ready to help you.

Hold or Sell

Don't know whether to sell or keep your pair of sneakers for a higher profit? No problem, we have a whole dedicated section. You will be able to know the trend of market prices and forecasts at all times, to allow you to make the maximum profit from your collection.

Market & Utilities

Buy and sell in our marketplace by posting your ad in a dedicated section with many different channels. If you want to know the price trend of the sneakers you own or bots, you can rely on our utilities and you will receive the chart in real time.
Our packages
You can choose the plan that best suits your needs , each plan will be applied to the terms and conditions of sale.
Monthly subscription

34,99€

Monitor for 250+ sites (EU and US)

Release information

Guides and bot setup

Groupbuy

24/7 support and tickets

Abbonamento Annuale

299€

Reduced rate for 12 months

Monitor for 250+ sites (EU and US)

Release information

Guides and bot setup

Groupbuy

24/7 support and tickets
Frequently Asked Questions
Find all the most answered questions in this section.
What is HypeCook?

HypeCook is a cookgroup, based on Discord (Windows/Mac, iOS and Android). We will help you to buy the most limited edition sneakers, clothing apparels and items at the retail price. You will be able to achieve maximum profit, thanks to our services and advice.

How can i join?

The group is currently sold out to ensure the highest quality of service and limitedness to our users. Membership restocks are announced on our social channels. In order to be notified of a restock, we recommend you to turn on notifications and follow us on Instagram and Twitter.

What does membership include?

The price of membership is 34.99€ per month, thanks to which you will have access to our services: monitors, raffle monitors, bot setup, sitelist, release information, tutorials to be successful in the sneakers game. We provide 24/7 support, so that the user is best prepared for each drop.

How long does the membership last?

The membership duration is 30 days, and automatically renews. You can deactivate the payment by writing to our customer service by e-mail or Instagram, or directly from PayPal

Do you need support?

You can open a ticket in the dedicated section of our Discord server. Our staff will reply to you as soon as possible to help you and solve your problem.

Do you have any more questions?

Contact us on Instagram, Twitter or by e-mail . Do not hesitate to ask and we will try to answer you as soon as possible.